Join Us For Our Science of Manufacturing eSeries
Watch our video to find out more and sign up today!
The Science of Manufacturing
The Top Three Reasons why you should download our Pocket Guide and join our dedicated Science of Manufacturing Email Series. Based on our Science of Manufacturing Methodology and used to deliver successful Continuous Improvement Programs, here are the reasons you should opt in & join our Science of Manufacturing Series.
Gain valuable insights that will help you identify & exploit improvement opportunities.


Acquire a pragmatic approach and achieve step-change business performance improvement.


Uncover ways to implement practical solutions that deliver real, sustained business benefits.
As The OEE People we work with the World's leading manufacturing companies to increase capacity, reduce costs and deliver operational excellence.
Our Methodology, The Science of Manufacturing, is a set of 10 proven principles, combining technical innovation with a focus on people and culture. Our easy to read pocket guide, combined with our periodical eSeries articles can help you deliver successful Continuous Improvement programs through data driven technical and cultural development.
To learn more about our Science of Manufacturing "Kickstart" Coaching Programme or our Smart Factory OEE software, PerformOEE™ please Contact Us.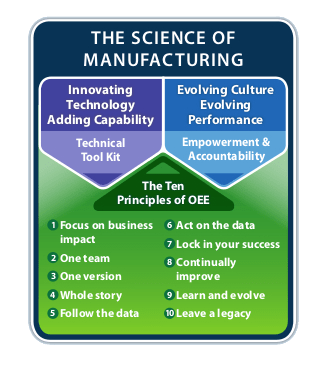 Subscribe Now. Download Our Pocket Guide & Join Our e-Series Today.