Visual Factory Definition
This is the term that is used to determine the information displayed in a working environment. These signs and charts are usually used to help production supervisors, maintenance engineers, and operations managers to understand how to remain organized in their working space. Visual Factory is something that is most commonly seen in a Lean Production environment and it's an important piece of the organizational puzzle.
Everywhere people look in a manufacturing space should contain signage and visual help to know what the processes and practices are. Not many people can imagine a life working in a factory or warehouse without visual signage, and that extends to the rest of the world, too.
With the right resources and data, your business can use the right systems for success. Implementing signage will offer assistance to your facility. Every big business has visual signage, and that's because life in the business and the operations of the company work better with visual factory ideas.
The term visual factory is seen more and more in businesses today than ever before, but it's certainly more popular in the manufacturing and warehousing industries. It's all based on available visual information that is signposted through the factory floor or workspace, and it's a very powerful way to communicate with your employees and clients who come into the building.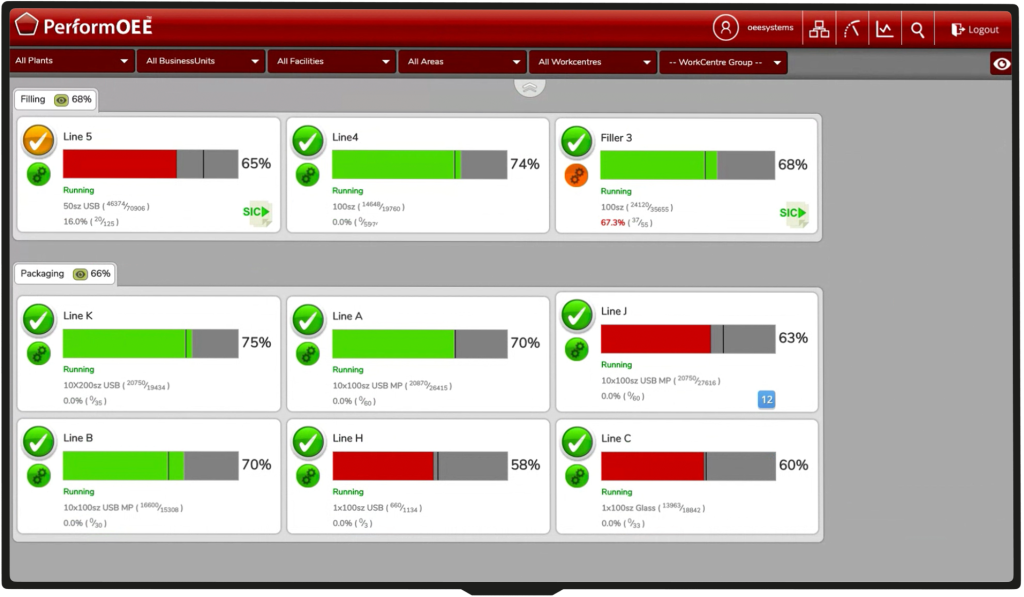 This is PerformOEE's PlantWatch Screen. 
Toggle your view by plant, facility, area or workcentre to get a real time snapshot overview of your entire productivity performance at a glance
Note the % figure, this is the current OEE Score for that workcentre.
The colour of the bar immediately identifies if you are ahead or behind your OEE Target.
The OEE Target is indicated by the black vertical line on the bar.
The current Product Sku for the item in production is recorded here.
It also shows you current quantity produced versus order quantity required.
The % figure here indicates current line speed. If below optimal the % figure turns red & the cog symbol above it turns orange to indicate the line is running slow.
If the Cog symbol is red then the line has stopped.
Where Should Your Visual Factory Be?
Visual factory should be something that you apply across your business. The goal here is in efficiency and productivity improvements and to achieve a better quality process in your business. The signs should work in several ways, and these include:
You should be able to use visual factor signage to inform people in your business about planning, performance, process and production. There should be signage for key instructions for the day and week, and if you have longer-term plans for the month, it's important to do that, too.
As well as information, you should be able to use floor markings to direct people where to go, to show where the exits and wait points are and what the do's and don'ts are of the business. You should also have working instructions and directions for equipment in plain view, too.
If there are hazardous materials, waste materials and dangerous items, there should be warnings with visual factories. This can even include Andon boards and other signage to show that your staff could be at risk.
How do you plan to help operations managers to track what's going on in the business? Visual factory! You can detail the production flow stage and the quantity of created materials, you can have signage to detail the plan vs the actual stage and you can even have tracking methods like order delivery statuses.
How do you plan to control your process and output? Your raw material deviations? Your deviations from the standard operating procedures? All of these things are vital to your business, and you need a visual factory to be able to help you to do this.
You have to align your visual factory with the goals of your business. It's not something that you use to appease customers or to win anything, it's all about keeping your factory or warehouse moving forward in a way that's beneficial to the business and that means the Lean manufacturing processes and principles. Visual factory allows you to be more efficient and productive day to day and you should be easily able to visualize your activities in your organization. From the safety and process measures to working instructions, your workplace should be somewhere that your management and your employees know exactly what they should be doing and when.
Choosing a visual factory for your business is a smart decision if you want to be able to meet the 5-Sigma principles. You can reduce the written documents and rely on the right signage to ensure that your business is compliant and runs smoothly. You can do that with Visual Factory.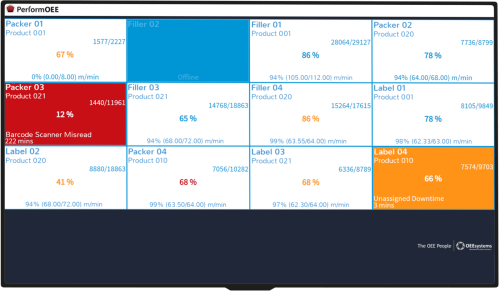 REAL-TIME CONTROL OF YOUR MANUFACTURING PERFORMANCE
Designed for large screen displays in areas such as production, packaging, maintenance & management team offices, PerformOEE™ Spotlight's Asset Care Screens present your real-time production performance giving you constant visibility and control of your processes.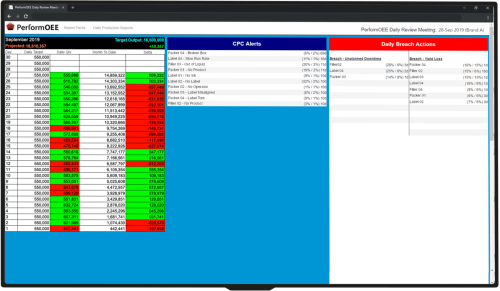 SPOT PERFORMANCE
TRENDS
Use PerformOEE™ Spotlight's CPC Monitoring Screens to highlight & display when your real-time manufacturing processes are underperforming.
Recognise trends and enable the right response from your manufacturing teams.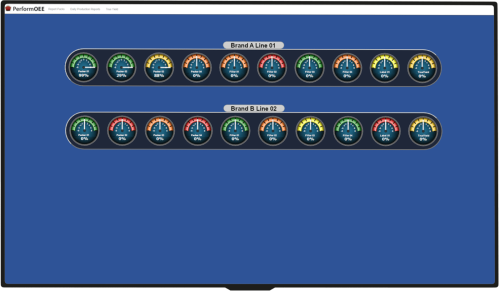 OBSERVE REAL-TIME PERFORMANCE DATA WITH CLARITY
Delivering clear, concise and meaningful high level views of manufacturing operations, PerformOEE™ Spotlight's True Yield Screen, provides a valuable window into your asset and production performance.