Take Control & Drive Continuous Improvement Transform your Manufacturing Operations

Industry 4.0 & Smart Factory initiatives delivering Cultural & Technological Transformation in your Manufacturing Operations.
Smart Factory OEE Software
PerformOEE™ Smart Factory Software is a Smart Factory OEE Software Solution used by the world's leading progressive manufacturing companies. It is their preferred application for managing real-time production performance improvement.
PerformOEE™ can be used for Discrete, Batch and Continuous manufacturing processes across all industries. Our OEE Software is suitable for all users within your business, from operators on the shop floor to those atsenior management level. Our Quality Compliance Checklists, Dashboards and Reports are perfect forthose operating in regulatory environments.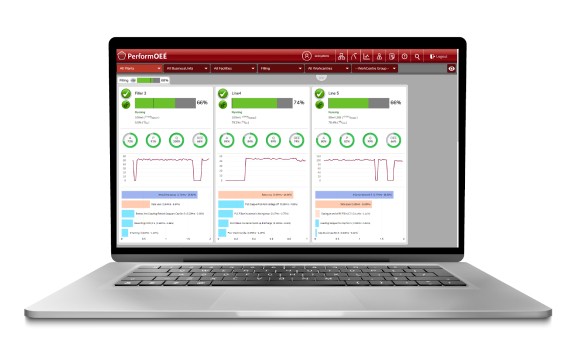 We work with the world's most progressive manufacturing companies to increase capacity, reduce costs and drive continuous improvement. Our unique record of combining our Smart Factory OEE Software, PerformOEE™, with our Science of Manufacturing Methodology delivers real-time visibility, analysis and control of your manufacturing performance.
That makes us The OEE People.
Average OEE after
12-24 months
Increase in operational output
Increase in overall
Yield
The Science of Manufacturing
Our Science of Manufacturing Methodology, a set of ten proven principles combining technical innovation with a focus on people and culture, is used to deliver successful continuous improvement programs.
Presented as an easy to read pocket guide, our methodology, combined with PerformOEE™ Smart Factory Software,can help you achieve step-change business performance improvement and tangible business impacts.
OEE Software Testimonials
"Our OEE score has increased by more than 10% and is on track todeliver the same again over the next twelve months."
Pete Twiss, Site Manager, | Müller Wiseman Dairies
In all, we achieved a 29% increase in output and a corresponding 20% increase in OEE. This success led us to implement PerformOEE™ across all our lines.
Rob George, Asset Care Manager, CooperVision UK
"Customer service was excellent. We had biweekly calls long after implementation with OEEsystems. They were able to customize the service as we changed our needs."
"Customer service was excellent. We had biweekly calls long after implementation with OEEsystems. They were able to customize the service as we changed our needs."
"Customer service was excellent. We had biweekly calls long after implementation with OEEsystems. They were able to customize the service as we changed our needs."