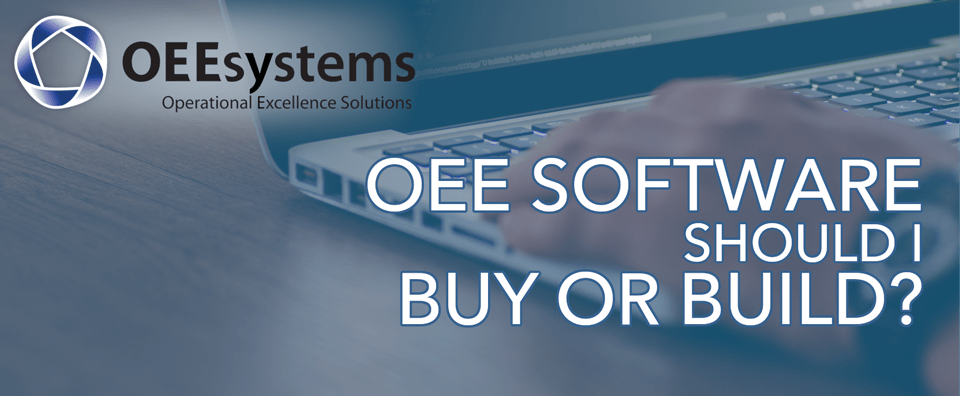 OEE Performance Management Software –
Should I Buy or Should I Build?
OEEsystems International provide OEE Performance Management Software & Expertise to the world's leading progressive manufacturing companies helping them to reduce costs, increase capacity and deliver business performance excellence.
If you are a large organisation with an in-house IT team and want to implement an OEE Software Performance Management solution, you may be thinking should I buy an OEE software package from a specialist OEE service provider or should I attempt to build it in-house?  As evidenced by several industry analysts and many manufacturing businesses, developing an internal, custom solution to drive OEE Performance Improvement is fraught with risk in terms of changing requirements, development time and cost, and ongoing, resource-intensive support requirements.
In this article, Arthur Stone, CEO, OEEsystems outlines just some of the risks and challenges associated with building your own OEE software solution.
When determining the strategy for automating a critical business process like manufacturing performance management software, the "Build vs. Buy" choice remains a key decision. While building an in-house application may seem the most cost-effective route, this approach is fraught with problems. Specialised OEE applications now offer a compelling alternative to the expensive, time-consuming quagmire of in-house development. Overwhelmingly, organisations have proven the decision to "Buy" provides much greater value and success than the decision to "Build" and here are just some of the reasons why.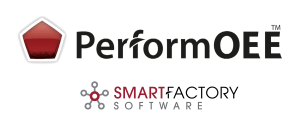 Development, Maintenance and Support Costs
An in-house project may appear to have no real cost – the in-house programmers' time is already paid for, after all.  However, in-house development can be much more costly than it appears – far more so than that seemingly expensive software package. Developers must be trained and code must be carefully tested. Consider the salaries of the development team, the downtime in user departments during all phases of development, and the opportunity cost of not putting developers on other worthy projects that would propel the business forward.  When you buy an OEE application from an expert OEE IT house, you evaluate in advance the features, functions, and capabilities in an existing enterprise environment. A known cost is attached to the initial purchase of the product and ongoing maintenance and support. If you build a system with internal resources, project costs and time to deploy may range widely, affecting the success of the project.
Time Consuming
Traditionally, in-house application integration projects have involved long learning curves and slow deployment schedules. In-house development requires considerable due diligence to scope and plan the entire integration project. Once again, the developers' time can be better spent – and time is money.
Optimisation of Development Resources
An in-house software application project pulls programmers away from an organisation's regular development work. On the other hand, after the fast deployment of a packaged application you can focus development resources on your business's core competencies. Developers can get to work on exciting new projects that will further organisational goals and add to the bottom line.
Skill set
Industry experts Gartner note, " skill-sets required within most organisations change rapidly as technology evolves. Organisations, must realistically assess their ability to develop and maintain the skill levels required to keep pace with technology shifts that add value to the organisation. Simultaneously, organisations must consider the cost of re-training and re- deploying technical staff while maintaining legacy systems and running daily IT operations".
Too Expensive to Maintain
Maintaining an in-house custom application and keeping it running on the current platform can be an expensive proposition. And what happens when the programmers who developed the original application move on to other projects and other jobs? The maintenance of custom integration applications is complex, time- intensive and fraught with risk. And, unless the application is well documented the business will end up throwing more money in to maintenance than was ever planned.
Core Business Focus
The focus of your business is manufacturing – not manufacturing performance management software.  An enterprise application is a significant project that requires many resources. Buying an packaged application keeps you focused on your core business while gaining the benefit of an experienced partner in the software development industry.
Functionality
A software partner with a portfolio containing dozens of successful deployments will produce great insight into the needs of the market.  For example companies who have a range of manufacturing processes such as Bulk, Discrete and Continuous are increasingly looking for one OEE software solution that can handle all three processes.   This way they are only dealing with one system and one supplier. This leverage puts both the company and its software partner in a unique position to continually develop new products, features, and functionality in addition to anticipating your needs. There's a good chance that they'll know what the business needs before the business itself does.
No Real Process Improvements
One danger of in-house development lies in the tendency to continue to do things the old way, which won't necessarily yield the optimum solutions.  In-house programmers need to be versed in the latest best practices and even if the organisation's business processes have evolved over time, they may still not reflect best practices.  Leveraging the knowledge and experience of an OEE specialist software provider with an independent view makes good business sense. Rely on the experts. A company with decades of experience, installing OEE software solutions and delivering actual OEE gains is always a good start.
Reducing Institutional Risk
Partnering with a firm that provides low cost solutions that involve minimal development and faster deployment reduces institutional risk. Cost overruns, delays, or inefficient applications will not be issues. Success will be more evident with a quality- tested, market-proven, and industry leading product. Statistics show that the risk of failure in large-scale development projects is high, as is the likelihood of cost overruns and time delays. There are many factors that can contribute to such failures and only careful planning and excellent management can minimise the risk.
Faster Time to Market
The long development cycle of an in-house solution isn't an option if your organisation needs to deploy a software application quickly. Businesses experience constant and rapid changes. Companies merge, expand or shrink and competition joins the market.   Application developers often hear "although we needed that a year ago, it's not what we need to run our business today." Add to that rapidly changing technology the adaptability of a home-grown system becomes an issue, and often a system built in-house becomes obsolete before it's complete. A packaged software application is a production-ready application that can be configured to your environment, across the enterprise within a relatively short timeframe.
Documentation
When considering the issues, decision-makers must assess the ability to develop in-house, or pay for, technical and end user documentation.   Technical documentation is particularly critical when the system is to be maintained by internal staff, because it must be assumed that the "experts" on the system at the time of development won't be around forever. Without this critical documentation, it may become impossible to adequately maintain a complex, custom-developed system.
Higher Level of Integration with Third-Party Technologies
When an organisation sets out to develop an application in-house, it must consider additional technologies that may be adopted after the fact and if it will have the ability to integrate with these systems.   Fully functional OEE software applications provide a broad range of connectivity options to production equipment, production systems, planning systems, ERP solutions, MES, SCADA and CMMS software – this saves integration time and improves data accuracy.
High Reliability through Proven Performance
Building a software application in-house is only the beginning. Next comes a time-consuming iterative testing process, during which developers fine-tune the application and hope for the best in terms of reliability. In contrast, a good packaged integration solution offers high reliability by definition, right out of the box. The vendor and other users can attest to its proven performance.
Project Failure
While different organisations have reached different conclusions about the causes of failure; there is a general sense that a project will largely be doomed from the outset if there exists vague or conflicting objectives, politics, poor planning, poor design specifications, little user involvement or lack of executive support.
Will an-in house system actually deliver OEE improvements?
And finally! So you want to implement OEE software.  As a first step the software should deliver an accurate OEE score.  However "World Class" OEE software should also provide you with the required business intelligence to show you how to actually improve your manufacturing performance.  Normally the developers of these type of systems have years of manufacturing and OEE expertise behind them, so if you are considering building a OEE software solution yourself you really need to ask do you have this type of expertise in-house?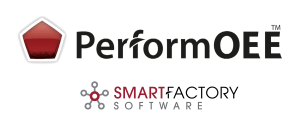 Conclusion:
In today's complex IT landscape and competitive business environment, in-house OEE software applications cannot stand up to road-tested packaged software of specialised OEE software houses.  Even though an in-house integration application may seem to offer control and flexibility, it will only lock your organisation into a sub-optimal solution. Is OEE application development really your organisation's core competency? Can you spare the programming resources? Do you have several months to develop, test and fine-tune your OEE application? Will your software be intelligent enough to not only accurately measure your OEE score but also show you how to improve that OEE score and deliver increased bottom line profits?  If, like most organisations, you answered "no" to all of the above, buying a highly reliable and functional packaged application is your best option.
---
About the Author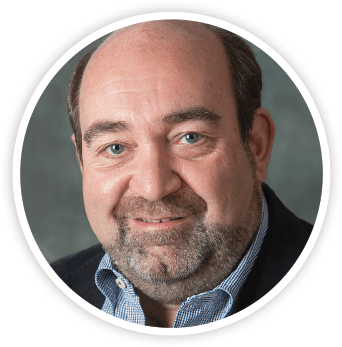 ARTHUR STONE
CEO, OEEsystems International
As Chief Executive Officer of OEEsystems International, Arthur Stone delivers Smart Factory OEE Software and expertise to the world's most progressive manufacturing companies. Combining decades of experience in both the Manufacturing and Engineering Sector with his OpEx OEE expertise, Arthur drives OEEsystem's vision for helping the manufacturing community increase output, reduce costs and drive continuous improvement. Currently Arthur is helping manufacturers understand that a Smart Factory OEE project can also support their Industry 4.0 and IoT strategies. Having successfully shared his insights and enhanced performance improvements across a wide range of industries within the Manufacturing Sector, Arthur has helped customers develop a pragmatic approach to exploit Industry 4.0 opportunities and to implement practical solutions to deliver real, sustained business benefits.
Find additional knowledge articles from the OEEsystems' Team HERE
To keep up-to-date with OEEsystems International follow us on: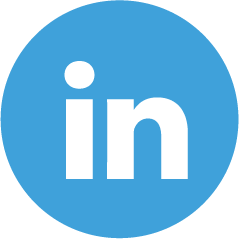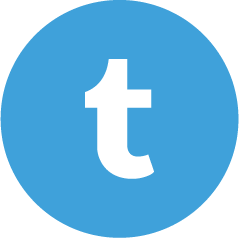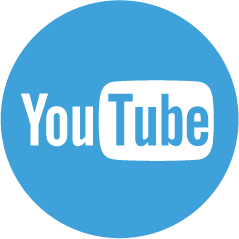 Contact Us
We are THE OEE PEOPLE.
We work with the world's most progressive manufacturing companies to increase capacity, reduce costs and drive continuous improvement.
Our unique record of combining our Smart Factory Software PerformOEE™ & our Science of Manufacturing Methodology, delivers real-time visibility, analysis and control of your manufacturing performance.
To start your OEE Journey with us today simply click here.